Agnese Zalcmane (30).
Let's meet up, gather or huddle and here starts the adventure… Agnese is passionate about making a simple trip a great experience and people who have traveled with her always remember it. She loves meeting people and manage to find thousand and one reasons to allow them to share more time with each other. Remember the Munchkin or Uno board game party? Even been to a "I have never tried cheese fondue before" party? Well, if you have mentioned the idea of a way to have fun, you can be sure Agnese can and will help.
Agnese is also very organised, is always smiling and keeps every one in a good mood. She also loves mixing her hobbies. On top of enjoying traveling and being with people as previously said, she loves singing and therefore doesn't hesitate to travel to the other end of Europe just to gather for a choir.
So, if you happened to always have your head up on the Moon and want to follow its shadow, I am sure you will find in Agnese a great travel companion.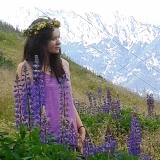 Alīna Rence (29).
Alina will find a common ground with any group of people and will find something to talk about with everybody. Alina doesn't like quarrels and will serve as a mediator between any two belligerent parties. This quality is probably helping her in her job, where she works in a field of public relations.
Alina's favourite hobbies include long distance running (she will outmatch many guys in tenacity and endurance), reading books (and wanting to write her own book one day), learning French (and practising it in her frequent travels to France), as well as painting and other arts. Dreams to become an artiste one day.
Anders Sköld (38).
Anders is a nice guy who likes to watch and take photos of birds and animals. He can watch birds for a long time and take a lot of photos or until he finds the best spot from where to take a shot. If he finds some new bird he always looks in a book to recognize what kind of bird is it. While travelling around he always keeps camera and binoculars near him. Anders enjoys travelling around the world and loves nature. He is well prepared for any kind of situation that might happen while travelling and he is also a great companion.
Edgars Rencis (32).
Edgars is a researcher both in everyday life and at work, with all the consequences. He can read, explore, gather information for hours, until he gets and understands all the information he is interested in at the moment. In communication with others Edgars may seem secluded, however, when got to know closer, may become a reliable friend.
Edgars' hobbies are long distance running, barefooting and nutritional science. As he is a passionate researcher, he will willingly tell you about scientific aspects of these fields on the first call. Be aware, Edgars may encourage you to try running or even barefooting, or maybe even to think about the importance of healthy eating in everyday life!
Apart from the science, Edgars enjoys the nature, wondering in forests and sowing carrots in his garden.
Regarding traveling Edgars prefers nice scenery and mountain trails.
In everyday life he programs and teaches the young programmers.
Everita Barkāne (30).
Everita's personality is just as lively and explosive as her hair.
She always has her head full with ideas which usually leads to new adventures. Talking about adventures – I have not seen an adventure Everita has turned down.
She is fun to be around and has enough stories to fill any long journey. But don't be fooled by her fun loving and care free personality, she is a strong and intelligent woman.
She is very good friend and a great companion on long trips with a wide range of knowledge.
Everita is very strong minded, if she wants to achieve something, she will put all her mind and energy to do it. She has used this drive to learn new things and constantly expand her horizons…
Juris Jerums (35).
Breadth and versatility. Breadth of knowledge and thinking. Open mind. If compared to swimming, it would be wide sweeps and fast swim. You can get ahead this way and don't need to dive to look at each sunken shipwreck with its fish.
Networking and vastness of relationships, leaving personal skeletons for himself and closest ones. Sometimes like a peculiar magnet, that attracts up to certain boundary and then keeps in safe distance.
Time dimension. Sometimes it is connection. Sometimes- parallel lives. Perhaps wormholes and non-Euclidean space would be a very appropriate environment for Juris.
Kristīne Adgere (39).
Kristīne is calm person with quite a smooth temper, but despite of that she likes adventures and new experiences. And traveling is one of the best ways to find them. There are two preferences in her traveling destinations – solar eclipses and mountains. She loves outdoor activities and hopes to enjoy real winter in Svalbard.
Rūdolfs Druva (28).
Strong, patient man with an unicorn on his T-shirt. He could be called – beholder and, as we all know, the silent waters run deep. Yes, Rūdis is a quiet man, but when he says something it is full of logical and wise thoughts. He is very kind and helpful, never heard him say "no" or "I can't do it". He is one of those persons who can do things which others cannot, for example – cook so delicious garlic bread.